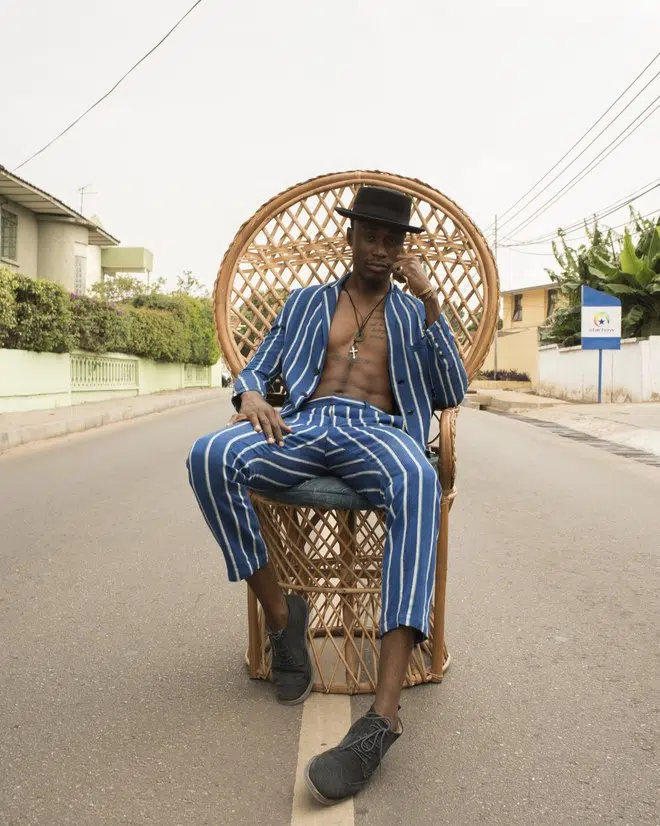 E.L, the Afrobeats singer and rapper, is picky about his kente. A fabric of the Asante people, one of Ghana's largest ethnic groups, it has been handmade from silk and cotton on looms with painstaking precision for centuries. And yet, because of its global popularity, the local market has been flooded with poor imitations of the original. "It's tradition in Ghana—buying fabrics, gifting fabrics," he says.
We're driving (or should I say pacing—the traffic in Accra is infamous) in E.L's SUV to the Arts Center, a deceptively large market in the heart of the city where he knows he can get high-quality goods. When we arrive, a crowd of merchants surround us, hoping to sell us their wares, but the singer, thin and tall and in big black sunglasses, beelines for a booth where an older gentleman is sitting at a loom, methodically (and surprisingly zippily) weaving fabric. "This guy has the good stuff," says E.L, picking up some neatly folded examples in his hands. He settles on a red, yellow, and green pattern—the same as Ghana's flag and the prototypical kente colors.
E.L first came to prominence as a producer and artist during the flamboyant Azonto dance craze which swept western Africa around 2012. Now, as Afrobeats—the polyrhythmic mix of rap and singing, largely from Nigeria and Ghana, that blasts from just about every car in Accra—is ascendant, he's kept time with tracks like "Abaa," and his success means he needs a solid touring wardrobe. And when the singer needs something special for a show or red carpet event (he won Artist of the Year at the 2016 Ghana Music Awards), he turns to his tailor, Chocolate, who runs a studio in the Dome neighborhood of the capital.
Chocolate has a knack for using traditional motifs, including kente, in unlikely ways, such as piping on suits. "It should always be with a twist. Culture is dynamic. It's always changing. Our fathers wore cloth, but we want to create a contemporary look," says E.L. Chocolate has had an eye for clothes since childhood. "My mom sewed," he says. "We make our own prints here, and one day we will start our own factory." Amid buzzing sewing machines, he and E.L decide they want to use the newly bought fabric to make a button-down shirt. He wraps a strip of the kente around the singer's throat to take a measurement. "It allstarts from the neck," he says, referring to the importance of a perfect collar.