Cee-C issued a warning strike after her verbal provocation against Tobi.
Cee-C has been trendinng all day long for the wrong thing. She raised her voice repeatedly at Tobi and now she got a strike for her effort.
For those who missed it, here's how it happened…
Big Brother Naija housemate, Cee-C who happens to be the head of house for the final week ordered Tobi back to his seat during their brief for the task of the day.
It all happened when Cee-C was reading out the task to her fellow housemates, and Tobi who wanted a better understanding of the brief stood up to approach her for the task instructions, however, Cee-C sent him back to his seat, and he obeyed.
Watch the video below;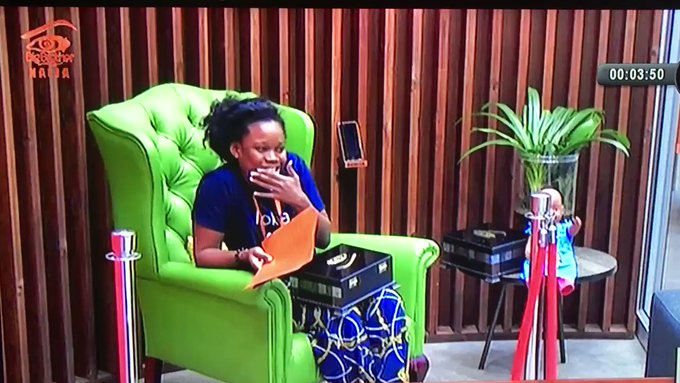 https://instagram.com/p/BhtQVNigUy2/?utm_source=ig_embed&action=like
Afterwards, Cee-C started her drama again towards Tobi, as she went on an epic rant.
It all began when Tobi said he doesn't like her anymore as they were about to prepare for their Close-Up task and she started raining insults on him, curse him for gossiping and talking behind her back with other housemates.
She warned him to steer clear from her and her matter because she is completely over him. Meanwhile in all this, Tobi did not utter any abusive word to her. He just kept laughing as she ranted on.
She still called him a f#ck boy, saying he does not have anything to offer a grown woman like her.
Watch the videos below:
https://instagram.com/p/BhtU-hTHEek/?utm_source=ig_embed&action=like
https://instagram.com/p/BhtWaGRHxwF/?utm_source=ig_embed&action=like
In related news, Cee C's reign as Head of House in the Big Brother Naija 2018 show came to an abrupt end on Wednesday as she was dethroned and replaced with Alex.
Biggie gave the remaining housemates a new brief, which was read out by Cee C in her position as HoH.
In the brief, Biggie asked them to form new groups and ended it with a mandate for them to choose a new Head of House. They had only one minute to do so.
Alex has since emerged the new Head of House.
Celebrities reaction to Cee-C's drama with Tobi…